Snapchat Is No Instagram – Snap Inc. (NYSE:SNAP)
Snapchat (SNAP) recently posted Q2 2018 earnings that were notable both because they showed a somewhat improving revenue and losses situation even amid a worrying drop of about 3 million daily active users.
The platform needs increased user activity to achieve the critical mass to then achieve profitability and earnings. However the rapid growth of Instagram and it essentially incorporating "stories" as well into it and the wider Facebook system makes it difficult for Snapchat to have a unique draw to the app.
I remain pessimistic on the company unless it can find some clear user proposition that makes it perhaps a niche app in comparison to the more broad-based Instagram. While Snapchat is seemingly trying to experiment with significant new designs and functionality, I remain hesitant on if any of it can materialize in something that is special enough to turn the company around.
Snapchat's Slightly Improving Financials Don't Make Up For Declining User Activity
From a financials standpoint, Snapchat's Q2 2018 wasn't too bad. A reduction in quarterly net loss from -$443 million last year to -$353 million is an improvement. Similarly, the $262 million in revenue is a 49% improvement from last year's $181 million. However free cash flow remained steady at $234 million to last year's $228 million and the company still loses more than it actually brings in as revenue.
The guidance for Q3 2018 also doesn't show any major signs of life at the moment, with similar revenue growth but a loss that remains unchanged year-on-year.
I believe the major issue for Snapchat is user activity, as it is the fundamental driver behind advertising revenue. The company's 188 million DAU in Q2 2018 was a 8% increase year-on-year but was still down about 2% from Q1 2018's 191 million. Snapchat blamed it on the dramatically revamped app it released, which completely changed much of its functionality in ways it believes addresses long-standing complaints with it.
However I believe such solutions are mere bandages to the real problem, which is essentially that Snapchat faces major competition that is constantly drawing away user activity from it – and that is Instagram (FB).
Indeed, with over a billion monthly active users, an estimated valuation of $100 billion were it a solo company, 400 million daily active users and adding far more monthly active users in 2017 than Snapchat has in total daily active users (Snapchat does not release MAU metrics) Instagram is a force to be reckoned with.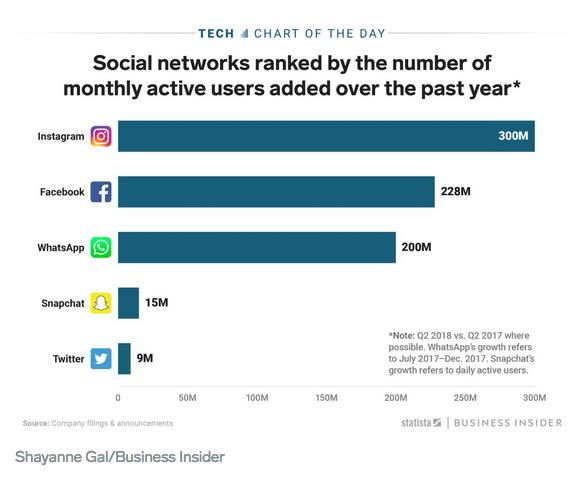 Instagram Is Eating Snapchat's Lunch And Making A Snapchat Rebound Even More Difficult
Instagram officially launched its stories feature in August 2016, several months before Snapchat's IPO in March 2017. Based on Snapchat's initial earnings we do have a glimpse of Snapchat's daily active user growth prior to its IPO, in which it posted 36% year-on-year daily active user growth in Q1 2017. In Q1 2017 it had 166 million DAUs compared to Q1 2016's 122 million.
However since then year-on-year DAU growth has slowed dramatically, undoubtedly with it being no coincidence that Instagram's stories have gained prominence in the meantime.
As shown below, once Instagram's stories came out around Q3 to Q4 2016 the average DAU additions dropped dramatically from what seemed to be some momentum in the few quarters prior.

(Source: Snapchat Q2 2018 Earnings)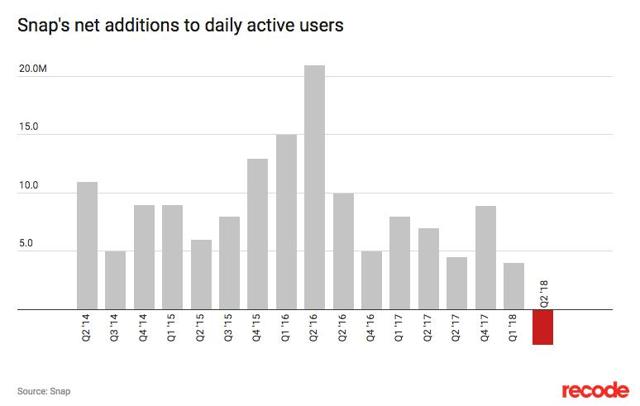 Fundamentally it appears Instagram's stories and Snapchat's stories are interchangeable in all widely-used functionality, ranging from their disappearing video nature to additional filters and tagging. However Instagram benefits from its connection to a far wider ecosystem of functions and uses, which specifically include the Instagram app itself with pictures and now the "IGTV" longer-form videos as well as the broader Facebook network.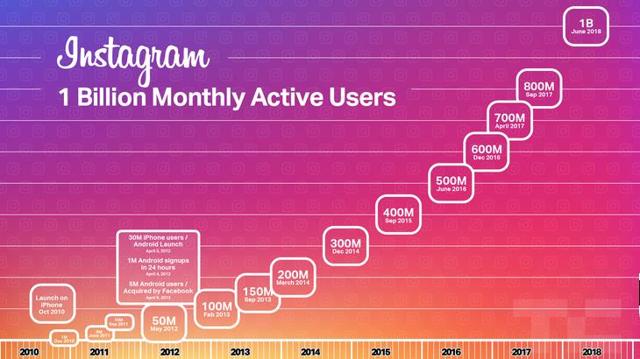 (Source: TechCrunch)
Indeed, as Snapchat's "stories" appear to not be patentable it seems that other competitors have drained Snapchat's distinctiveness that drove its original growth. With no way to appeal to a particular market or separate itself out from the pack, Snapchat's user growth has languished and seems to sow little sign of reversing itself.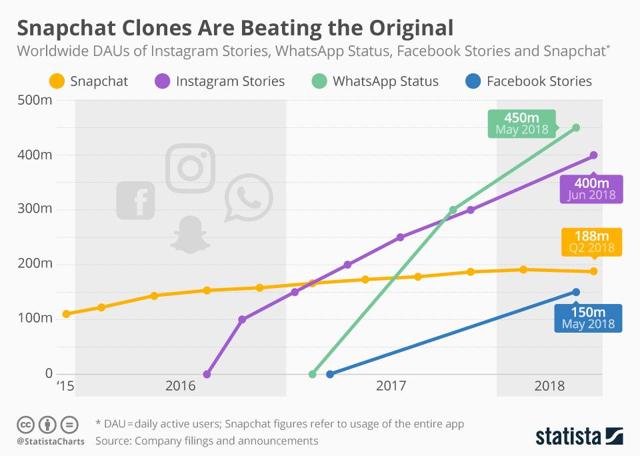 Even as Snapchat has found some ways to increase its average revenue per user and revamp the app in other ways, it still seems a far way from finding some kind of unique feature or appeal that can secure its user activity growth without disrupting its "legacy users."
User activity growth remains the essence for most social media and Internet services companies' advertising revenue growth. In Snapchat's case, as it is still in deep-red 'startup' territory for a tech company, it is the key to it ever becoming profitable.
This quarter's results provide little hope of a turnaround in my opinion. Snapchat could still find that golden egg but it doesn't seem to have any leads at the moment, and in the meantime Instagram, even with its stories feature being released almost 5 years after Snapchat's release, is eating up potential users in a way that may be very difficult to latch them off.
After all, remember that Snapchat's task is now made even more difficult by that it doesn't just have to draw people in to using a stories feature, but needs to also more draw them 'away' from apps like Instagram and Facebook.
Conclusion
At $15.8 billion, Snapchat is in my opinion still overvalued given its growth prospects and trajectory. Instagram is worth an estimated $100 billion at the moment and has a high-potential trajectory yet features much more than Snapchat does, as well as far more users.
Snapchat's may still find a new market to make itself focused on but doing so may disrupt its remaining users already on the platform and change the company's base significant, as MySpace's post-collapse transition similarly did.
And that is the optimistic case – I think the company will have a very difficult time achieving the scale as a solo-company to reach real profitability anytime soon, if ever.
At Tech Investment Insights I discuss specific companies and investment products that I believe are especially poised to gain in the market, as well as the one to avoid.
Focusing on technology in particular, I provide you updated risk/reward ratings of dozens of companies, price targets on potential worthwhile investments, portfolio strategies, and alluring risks to avoid. I hope you will give it a look.
Disclosure: I am/we are long FDN.
I wrote this article myself, and it expresses my own opinions. I am not receiving compensation for it (other than from Seeking Alpha). I have no business relationship with any company whose stock is mentioned in this article.